What kind of problem are you having? Select all that apply.
Pest Control in Martinsburg
Insect and rodent infestations can lead to disease and damage to your home. Here at Frontline, we can help stop pests from infiltrating your home and keep your loved ones safe. With over 20 years of experience, our technicians are dedicated to providing quick and effective solutions to your pest problems, no matter how big or small. 
Our local experts in Martinsburg tackle all kinds of pests, such as:
Ants

Spiders

Wasps

Crickets

Mice

Roaches

Ticks

And many more!
Pest Control Whenever You Need it
Our team makes getting rid of pests easy. We know you have busy schedules and don't need to add one more difficult thing to your to-do list. Call us day or night, with our convenient 24-hour phone lines. Our friendly representatives will help you find an appointment that works best for you. With Frontline Pest Control, you can have peace of mind knowing that you can get fast and reliable assistance at any time.
Image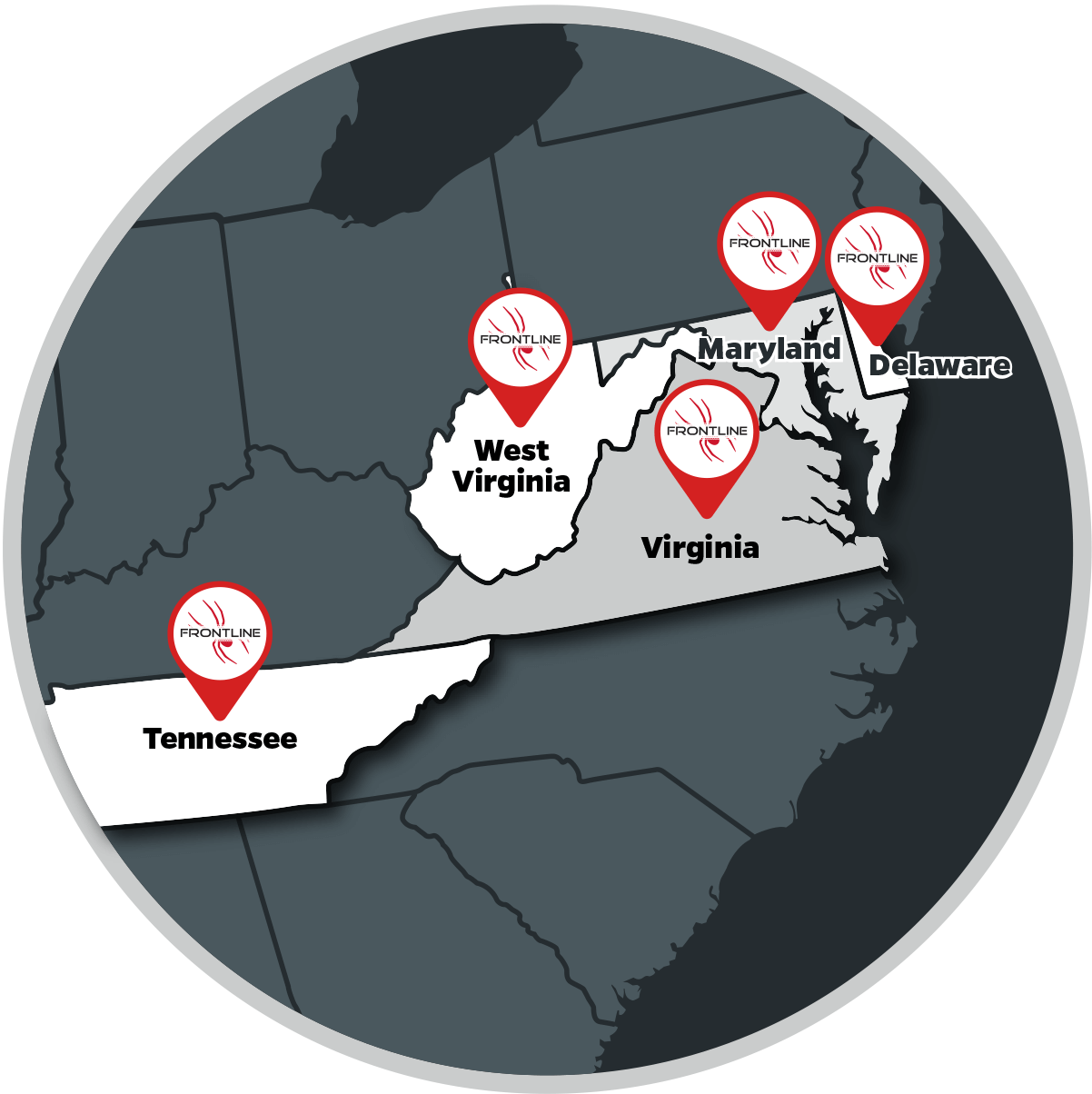 Termite Control in Martinsburg
Termites are pesky creatures that make a meal out of your home. They will eat the walls, beams, and foundation of your home. Termites can live inside your home undetected for months, compromising the safety of your home.
Signs you might have a termites in your home include: 
Sawdust-like substance gathering in piles.

Noticeable piles of insect droppings.

Strange noises coming from inside the walls or floors.

Old insect wings that had been shed.
Effective, Around-the-Clock Termite Protection
Don't wait to contact us if you suspect you have termites. The longer they go untreated, the more damage they can do to your home and property. Our trained exterminator will perform a comprehensive inspection looking for signs of termite activity and use effective treatment products to control active infestations or as a preventative measure. Sentricon in-ground baiting systems are inconspicuous terminals that work around the clock to eliminate these destructive bugs. Our technician will place bait stations around your property to treat any current infestations and deter new termites from invading the area.
Mosquito Control in Martinsburg
Has your backyard been taken over by buzzing and biting insects? Mosquitoes like humid and moist conditions. If you have standing water on your property, you might have a mosquito breeding ground nearby. Let us do the dirty work to clear out your backyard mosquito problem for good with our effective mosquito treatment.
When you partner with us for mosquito control in Martinsburg you can expect:
A thorough home inspection performed by a local expert.

Identification of areas or yard features that attract mosquitoes.

Customized treatment plan specific to your personal needs.

Larvicide application to prevent new mosquito populations.

Bi-monthly maintenance treatments to keep protection all season long.
Protect Your Home and Family
Mosquitoes can ruin any outdoor evening with itching and red bumps all over. Beyond that annoyance, they can also infect you with deadly diseases like West Nile Virus and Zika Virus. Sticky, smelly bug sprays aren't always effective and you have to remember to reapply them constantly. Call the professionals at Frontline to protect your loved ones from mosquitoes all season long.
Our Promise to You
We are confident you will love our quality and service. Dealing with pests can be a hassle, so we want to make sure that you are completely satisfied. If you find any creepy crawlers after we've treated your home, give us a call and we will come back at no additional cost.